Re-blogged from Leahurst66
The Children's Commissioner for England, Anne Longfield, seems to believe she knows better than a UN Special Rapporteur on Education. I have previously quoted Katarina Tomasevski on the schooling industry's hijacking of education which has led to the conflation of self-defined rights with state-dictated outcomes. Like school and education, these are not synonymous and the notion of a rights-respecting school is, frankly, an oxymoron.
Speaking in the Isle of Man in December 2018, Lady Hale, president of the UK Supreme Court, reiterated concerns about the 'spectre of totalitarianism' that had appeared in the 2016 'named person' judgment, which struck down the Scottish Government's proposals for arbitrary state interference with parental rights and responsibilities, including coerced compliance with state diktat. That ruling applies across the UK (not that you'd notice in the new era of authoritarianism in the name of rights!)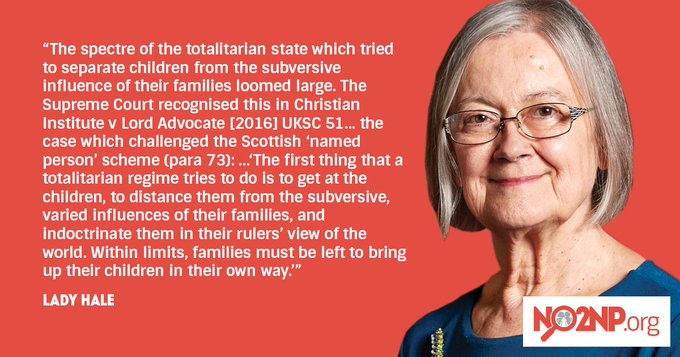 Given the English children's commissioner's troubling failure to recognise the rights of children and their parents to secure for them the most suitable education, either by delegation to schools or otherwise, I have submitted the following FOI request in an effort to uncover the circumstances which led Longfield, whose remit is to uphold the UNCRC, to recommend the blanket removal of human rights and GDPR protections from members of a minority group.
Dear Children's Commissioner for England

Please treat this enquiry as a formal request under the Freedom of information Act 2000.

The request relates to the commissioner's recent report and recommendations regarding home educated children and their parents, and related media coverage.

1. Please provide minutes or notes of all meetings and copies of all external and internal communications which reference 'home education' or 'homeschooling' from 1st June 2017 to the date of this request.The information should include dates and details of any meetings and correspondence to/from the DfE, local authorities, Ofsted, third sector organisations, elected members and peers, lobbyists, press and broadcast media.

2. Please provide a copy of your Equality & Human Rights impact assessment(s) in relation to the commissioner's recently published recommendations set out in the report 'Skipping School: Invisible Children' and promoted through your collaboration with Channel 4's Dispatches programme.

3. Please provide dates and details of calls for evidence from, and consultation with, all relevant stakeholders, including home educating families, in relation to the above report and associated media campaign, and the selection process/criteria for their participation (or exclusion).

4. Does the commissioner acknowledge (a) that schooling has equal, not superior, status in law, to 'education otherwise' in England; (b) that schooling frequently violates a child's right to education (as articulated by Katarina Tomasevski, the first UN Rapporteur on Education); and (c) that parents are responsible for ensuring their children are suitably educated, regardless of setting?

5. Does the commissioner acknowledge that, in lobbying to remove ECHR, UNCRC and GDPR rights from home educated children and responsibilities from home educating parents, she is guilty as a 'service provider' of direct and indirect discrimination against members of a minority group who hold protected characteristics under the Equality Act 2010? Does she recognise that her calls for parent licensing, forced entry to family homes and interrogation of children by strangers where there is no evidence of wrongdoing are tantamount to promoting arbitrary interference with Article 8 of the ECHR, given the provision of education during the compulsory years belongs to parents, not the state, and the law already permits intervention in the event of parental failure where the established threshold is met.

6. Has the commissioner made a formal declaration of personal and political interests which may be perceived as having inappropriately influenced her report and unlawful recommendations to target parents from a minority group for parent licensing and state monitoring?

7. Have all members of the commissioner's advisory board made similar declarations of interests, and have any members of that board previously supported calls for the compulsory registration and licensing of home educating families? Please note that this link from the 'Publication Scheme' on your website [https://www.childrenscommissioner.gov.uk/wp-content/uploads/2017/06/CCO-Publication-Scheme.pdf] returns as 'not found' [https://www.childrenscommissioner.gov.uk/publications/registration-interests-senior-staff-and-members-audit-and-risk-committee-and-advisory]

8. Please provide copies of the comments made by home educated young people and their parents which were subsequently deleted from the commissioner's official Facebook page when a link to the controversial Dispatches programme was removed.

9. Please provide the commissioner's response to calls for her resignation by home educators and others affected by her wilful misrepresentation of the law, distortion of data and exploitation of vulnerable children to attack a minority group.

10. Please also provide a copy of the commissioner's apology or other response to the school-damaged home educated children and young people who have been re-traumatised by her threats to remove their UNCRC rights, which she was appointed, at public expense, to uphold.

I look forward to your response within the statutory timescale.
And a final reminder from Katarina while we're waiting:
UPDATE (prompted by a commenter – sorry for forgetting to add the link!)
This predictably fog-shovelling FOI response
was received on 26 February 2019. It would take another blog post to fisk it fully, but suffice to say the Children's Commissioner for England cares not a jot for respecting children's rights in education or indeed anywhere else. With luck, Brexit and the prospect of a UK general election will at least delay the rights-trashing agenda, and it is looking likely that parents of SEND children are preparing to pursue judicial review of systemic failures in the schooling system, given that the commissioner can only write home-eduphobic reports and jump on self-promoting media bandwagons to incite hatred against a minority group.