As the bodies of GIRFEC victims start piling up across Scotland (and not just those from the home ed community), we thought we'd start at the beginning of the council alphabet and shine a bright searchlight on the various publicly reported failures and breaches on the part of Aberdeen City Council, which seems to just keep on Getting It Wrong.
If the annals are anything to go by, it looks like Aberdeen is in the running for that hotly contested title of 'worst place to grow up' for children, given its propensity for snooping on its citizens and a frighteningly cavalier attitude to data protection and confidentiality that would make Orwell proud – unless, of course, you happen to know of a more deserving nominee!
Having received information about alleged breaches of data protection in relation to more than one home educating family in Aberdeen, we have trawled the data protection policies said to be in place. One of these policies in particular appeared wholly at odds with the Data Protection Act 1998, the Human Rights Act 1998 and the common law duty of confidentiality, all of which trump any piece of non compliant legislation passed by the Scottish Parliament.
Since our subsequent findings raised concerns about a significant risk to individuals' privacy in Aberdeen, we have submitted a statutory Freedom of Information request to seek clarification relating to aspects of 'guidance', which is said to have been recently revised and appears to us not to be compliant with competent, overarching, reserved UK-wide primary legislation and EU Data Protection Directive 95/46/EC.
Confirmation of compliance with current UK and EU legislation of 'guidance around information sharing'
In our view, if anything could have been designed to deter people from accessing services or from admitting even a minor concern or problem to any state agent (whether a teacher, health visitor, midwife, doctor, social worker, police officer or third sector employee), this would undoubtedly be it:
Until recently the guidance around information sharing implied that information could only be shared without consent if there were concerns around child protection. That guidance has been clarified to reflect that the Data Protection Act 1998 provides conditions that allow for the sharing of information in several circumstances. This now means that if anyone has a concern about the wellbeing of a child or young person that could lead to them being at risk of harm then that person can share information without the consent of the child or their family.
When you look at the all-encompassing risk assessment framework published by the government (and displayed here by Lesley Scott at a recent NO2NP event), you will find that every child's 'wellbeing' can now be conveniently designated as 'at risk' by any member of the SHANARRI multi-agency wheel spinners' club. Don't ever admit to crossing the road, or going swimming, with your child as that 'could lead to them being at risk of harm'. As for home education, some primary teacher on a prejudice-fuelled power trip may decide that fulfilling your legal responsibility to educate your own child is an extreme risk (but only to her capitation allowance), while doing nothing to address bullying and unmet special needs in her own classroom.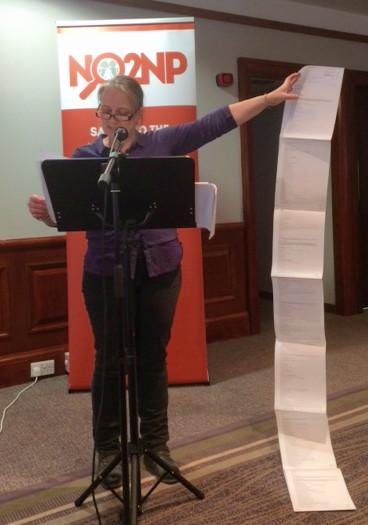 It's easy for those with even half a brain to recognise the 'shared language' of Newspeak for what it is: a sleekit attempt to circumvent legislation designed to protect citizens from abuse of power by the state. Put simply, Aberdeen 'public servants' (in common with their useful idiot counterparts across the land) are being mandated ultra vires to put sharing and scaring above caring, and to sacrifice the human rights of children and families on the altar of SHANARRI in an information (and hearsay) sharing frenzy – the sort of violation that has been described by more than one victim as akin to gang rape.
While we await the response to that FOI request, let's take a look at the track record of Aberdeen City Council in relation to looking after (or otherwise) the 'wellbeing' of its residents. It is far from reassuring.
Council employee publishes vulnerable children's welfare details online
The Information Commissioner's Office (ICO) has served Aberdeen City Council with a monetary penalty of £100,000 after a serious data breach resulted in sensitive information relating to social services involvement with several individuals being published online. The information included details relating to the care of vulnerable children.
Moving on to the quality of teachers, Quality Improvement Officers should note that anything would be an 'improvement' on this specimen.
Teacher, 28, banned from classroom after racist attack on bouncer at nightclub
A TEACHER who hurled racist abuse at a black nightclub bouncer has been banned from the classroom.

Rachael Patterson called the steward a "f****** monkey".

The 28-year-old, who worked with kids from troubled backgrounds, also made monkey noises.

Patterson was sacked and convicted earlier this year of racially aggravated conduct.
We are already aware that children are being databased by the police, even when they have been apprehended while going about their lawful business, and those who report criminal activity are having their information shared routinely without consent.We wonder, therefore, if the personal details of the child 'victim' below have been entered on the Police Scotland Vulnerable People Database for future 'concern' flagging, due to the incompetence of 'care' workers?
Young girl, 3, escapes from Aberdeen nursery onto busy road
The three-year-old walked nearly 100 yards to a corner shop.

Nursery workers searched everywhere for her when they discovered she was missing, but it was not until a concerned shop assistant contacted the police that she was taken back.
Here is an illustration of yet more carelessness, as another consignment of personal sensitive data made an unscheduled and unlawful trip to a Dundee skip.
Sensitive Aberdeen child data found in Dundee skip
The confidential social work documents are understood to have been discovered dumped in a skip at the Dundee refuse site.

The documents are said to include the home addresses and medical details of social work service users and information about the health and care of children.
Aberdeen City Council also likes to keep a beady Big Brother eye on local residents and visitors so they can monitor citizens' movements.
Aberdeen Council wants to see your visitors
When a non-resident calls your flat from the entrance, the call would be diverted to a centralised control room, where we will also monitor the current CCTV cameras in your building 24 hours a day. A member of staff from the control room would contact you directly and ask if you agreed to the non-resident being allowed access to the building.

[According to Big Brother Watch] This kind of invasion of privacy will do nothing to improve safety, and introduces a needless level of interference with visitors. It's yet another local authority policy that owes more to East Berlin than a Western democracy.

Why should a council official be able to see the visitors to your flat before you do? It's no business who you have into your own property and the last thing residents should have to put up with is a council official scrutinising everyone they invite round for a cup of tea.
The incident described in this next article, which went viral on social media when the mother posted the full details to warn others, is deeply disturbing.
…an irate mother of a 13-year-old in Aberdeen, complains about a nurse – not the usual school nurse – having a "little chat" with her daughter.

The questions the girl was asked included "Have you started your menstrual period?", "Do you feel loved and cared for?" and "Do you feel safe and secure in your home?"

The questions continued, probing the pupil's relationship with her mother. The child began to feel uncomfortable. When the mother found out, she was "absolutely RAGING".
We are frankly no longer surprised by revelations such as the following, and the council appears remarkably indifferent to the damage caused by the violation of citizens' privacy. Shit happens, eh?
Aberdeen council staff caught breaking data protection rules
The former Aberdeen City Council workers were shown the door after accessing personal information about people in breach of the Data Protection Act.

In addition, another nine employees were disciplined for misconduct, which included leaking information from a police report.

The incidents took place between April 1, 2011 and April 1, 2014 at the council, which employs around 9,000 people.

A council spokesman said: "Aberdeen City Council takes data protection very seriously and self-reports matters to the Information Commissioner's Office when appropriate.

"Policies and procedures for handling sensitive and personal information have been significantly overhauled recently to ensure they are as robust as possible."
Let's not hold our breath about the robustness of the aforementioned overhaul…
In an interesting departure from their PGCE training, teachers are apparently now qualified (as if by magic) and mandated to work outwith their formerly discrete professional 'silos'. Some have apparently been turning their hands to dentistry, medical diagnoses and social work assessments at the spin of a state issued SHANARRI wheel or mere tick of a box. Never mind the law (at least until you get caught) seems to be the mantra.
Five teachers are struck off by the GTCS in 10 days
Christina Newcombe, a playground supervisor/auxiliary at St Margaret's School for Girls in Aberdeen, registered as a primary teacher, admitted extracting the tooth of a junior pupil in breach of the school's child protection policy. She also admitted to calling two pupils a "nincompoop" and a "numpty" respectively and grabbing a pupil by the clothing causing fear and alarm;
Of course there's nothing like a bit of sexual impropriety on the part of those in positions of power to pique press interest and provoke public outrage. At least this one confessed, but how many others just get away with it, especially now they have carte blanche to access children's sensitive information and a handy means of keeping parents in the dark, thanks to their automatic membership of the SHANARRI wheel spinners' club.
Sex teacher struck off at hearing
A former Aberdeen teacher who had sex with a 15-year-old pupil has been struck off after a disciplinary hearing. Alison Smith, who was a teacher at the city's Bankhead Academy, confessed her behaviour to church associates and her parents before going to the police.
Parents should presumably be reassured that the sort of behaviour described in the following article doesn't affect fitness to teach children with special needs?
Special education teacher who called pupils 'beasts' and 'little s****' is ruled fit to educate
A teacher who called her pupils 'beasts' and referred to a child with special needs as 'a f****** little s***' will still be able to work as a teacher, an education panel has ruled.

Lorraine Bloice, 32, was found guilty of inappropriate behaviour when teaching at a special needs school in Aberdeen, but will still be allowed to teach.
There seems to be a veritable pattern emerging in relation to data security (or lack thereof) in Aberdeen.
Personal information lost or stolen in thousands of data breaches at councils
An Aberdeen City Council spokesman confirmed there were 13 data breaches, which saw staff sacked on three occasions, eight verbal warnings, a punitive demotion after a final warning, and one outstanding investigation.
Last but not least, there are still the many outstanding questions surrounding the abuse of Hollie Greig in Aberdeen.
The increasingly curious case of Robert Green
…despite medical evidence at the time confirming Hollie had indeed suffered sexual interference, including penetration, and the reports of two independent child psychologists saying that in their assessment Hollie was a reliable witness and there was no reason to doubt her testimony, the Grampian police apparently chose to dismiss her as a fantasist. It is reported that they interviewed only two of the named twenty two suspects – without checking their computers for possible possession of child pornography images, as is routine with allegations of this nature – and refused to interview any of the named victims. Not only that, but legal steps were apparently then taken to suppress all mention of the case in the media. Hollie was subsequently awarded £13,500 by way of compensation.
The clock is ticking as we await answers to our specific questions, and tired old template responses will not suffice. We would meanwhile remind readers of the six most dangerous words in the English language (Doric translation available on request): subject, access, request and data, protection, act. Use and act on them – often!